I recently accepted a challenge that was posted by a friend on Facebook called Pay It Forward 2011. The challenge was that the first five people who responded to her post would receive something handmade by her in 2011. The catch? Each responder had to post the challenge as their status and agree to send their first five commenters a handmade item in 2011. Since I love to craft and create, this was right up my alley.
I decided to make my recipients a post it note holder. Here it is:
Cute and functional! I made several of these and gave them to coworkers as Christmas gifts. They all loved them. I mean, after all, who doesn't use post it notes? And here's how I did it:
The supplies I used:
~ an acrylic picture frame. I got mine at Wal Mart for $1 each. I chose the 6 X 4 inch size but the 5 X 3 size would work as well to make a smaller note holder.
~ pretty scrapbook paper or cardstock
~ assorted ribbon
~ scrapbook embellishments and stickers
~ post it notes
~ glue. I used my hot glue gun but Modge Podge would work just as well.
Step 1:
Chose your paper to go into your frame. I use the paper insert that comes with the frame as my pattern to cut my paper out. The paper I used for this one is only printed on one side so I cut two pieces and put them in the frame back to back.
If your paper has words printed on it like mine does in this example, make sure when you put your paper in the frame, that the words are right side up! The "stand" on your frame will be at the top. This makes the frame like an easel so that when you write on the post it notes, the slant of the frame is correct. Your frame should look like this at this point:
And a view from the side:
Step 2:
Add your ribbon. I usually put a coordinating colored ribbon across the top of my stand and hot glue it in the back:
Step 3:
Now comes the fun part ~ decorating your frame! Decide where you want your post its to be placed. You can put them in the middle of the frame or on either side. I chose the middle for this one because I am keeping it simple with the embellishments due to the fact that I used paper with words on it. I didn't want it to be too "busy". I put some glue on the back of my post it notes just for some added security. You could always just peel off the paper backing and press them onto your frame if you wish. Then just embellish to your heart's content. I used one simple ribbon rose bud on this one, and voila, a cute, finished post it note frame, all ready to be used!
These are so much fun to make and so, so simple! This one took me all of five minutes to make. They are so cute sitting on a desk or by the phone. And the decoration possibilities are endless! There are so many neat 3D stickers and embellishments available at craft stores. Here's some pics of a few more I've made:
I hope my Pay it Forward 2011 recipients like them! How nice to be able to get something in the mail besides bills! It would totally make my day!
I'm linking up with these fabulous parties this week: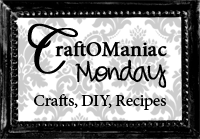 Click on the boxes to go check out all the great crafts and recipes everyone is sharing!
We have decided on the paint colors for our "new" kitchen! I am so excited and can't wait to get started! I'll share those along with the inspiration for my "new" kitchen with y'all tomorrow!
Until next time. . .