Hubby had some scrap wood laying around that I found last week in the basement so I asked him if I could have it. I wanted to come up with a little sign or something for Easter. He had one good sized piece of wood and some smaller pieces of a 2 x 4 left over from another project. I have been seeing some cute things out in blog land and was inspired! I drew out a bunny shape and had him cut that out of the larger piece of wood. Then he sanded down the blocks and the bunny for me. I gathered my supplies and got to work:
I decided to go with some bright pink and green paint that I already had in my paint stash for my blocks. And I used a vanilla color for my bunny. I took a piece of floral wire and cut it down for the bunny's whiskers. I dredged it through some black paint and let it dry. I painted the blocks with a base color of the vanilla and topped that with the pink and green colors. Then I took a white paint marker and free handed the words "happy" and "Easter" on them. Once they were dry, I used sandpaper to distress them a little bit so that some of the vanilla color showed through.
For my bunny, I left her vanilla. Then I took some blush from my make up bag and using my finger, gave her some pink cheeks and highlighted her ears with it. I glued on her whiskers, painted her a cute heart shaped nose and added some eyes with my paint markers. I took some black paint on a sponge brush and dry brushed the edges to highlight her a little bit. I finished her off by tying a purple ribbon bow around one of her ears.
I love how this turned out! I am going to send this set to my Mom who lives in Arkansas. She loves stuff like this and is always asking me to make her things! I hope she likes it!
I'm linking up to these parties this week: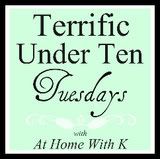 Until next time. . .