Hello all! Sorry I've been MIA over the past couple of weeks. Life has just been so busy. We've either been on the go, working, sleeping, working, eating, working, playing taxi to a teenager with his first job, working. . . well, you get the idea! I've had almost zero time for crafting which makes me sad. But, the good news is, we've been able to get some things done around the house that we've been wanting to do. We've painted our hallway. It went from blah white to a beigey (yeah, that's a new word!) grayish color. Here's a pic, although you can't really tell much about it. The hallway is narrow and not well lit so it's hard to get a pic of the true color.
I was kind of worried about the color because we bought this paint from Lowe's in the "opps" bin for $5 due to it being mistinted. So I don't know the actual name of the color, but I really like how it turned out.
We also got started on our kitchen. Yay! I went to Lowe's website and they were offering a free sample of any color they carry, so of course I had to order the Apple Peel red color I had picked out for my kitchen. I love it! We painted the lower portion of the dining area with this color and then we put up a chair rail. It looks sorta orangey in this picture, but it's really not. It's more of a country red color. I think we will do at least one more coat. This pic is with two coats and it's not as even as I would like it to be. A friend of mine ordered a free sample of the tan color (Summer Tan) for me so that is what color you see above the chair rail. I'm not sure if I'm really satisfied with it or not. I think I will like it once we get more of it on the wall. I hope so anyway!!
I was so excited when I got my free sample in the mail, that I just started painting before I realized that I hadn't taken a "before" picture. Oh well, just imagine a plain white (boring) wall and you'll get the idea!
My crocus and daffodils are starting to bloom. A sure sign that spring is on it's way!! Well, at least I thought it was, until I woke up yesterday morning to SNOW!!! We ended up with about six inches before it stopped. The good news is that a lot of it melted away today since the temps were in the upper 40's for most of the day.
Aren't these just the sweetest little flowers? They make me smile!
Finally, we did get a little bit of thrift shopping done over the weekend. I found a few treasures that I will share with y'all later this week. And I have to show you the awesome candlesticks I won in Marty's giveaway over at
A Stroll Thru Life
. They are gorgeous!
I have started a couple of small craft projects, but can't seem to find the time to finish anything! I hope to be able to do that this week as well.
I'm linking up here this week: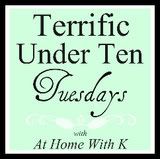 Until next time. . .