I needed a quick, inexpensive gift for a baby shower recently, so I did what any "wait till the last minute" blogger would do. I scoured blogland for ideas for something quick and inexpensive, but absolutely too cute for words. And boy, did I get more ideas than I bargained for! But one in particular really spoke to me. It was a post about all different kinds of wreaths you can make using baby themed items. Now, I have made dozens of diaper cakes and I really enjoy doing them, but this time I wanted something a bit different. So I decided to try making one of these awesome wreaths. Since I make the diaper cakes frequently, I have a stash of baby items always on hand. I decided to raid my stash and see what I could come up with. I had an abundance of bath related items, so that became the theme for my wreath. I started with an old wreath form that half of the stuff had fallen off of and I knew I wasn't gonna be using it in it's original form, so I removed all the other stuff off of it and gave it a quick coat of white spray paint.
Then I gathered up some greenery and some flowers, all my baby bath items, some ribbon and my trusty glue gun.
Then I got to work. All I did was tie my baby items onto the wreath with some pretty pink ribbon. I did use a spot of glue on the heavier items to make sure they would stay in place. Then I filled in any gaps with the greenery and flowers. Lastly, I glued a length of the wider ribbon to the top part of my wreath and tied a shoe lace bow out of more of the same ribbon and glued it on. The entire project took me about an hour to put together and since I already had all the supplies on hand, it was essentially free! I didn't have to run out on a Saturday morning frantically searching for a gift. That's always a good thing. Plus, this is a gift that is different from all the usual baby shower gifts and one that Mom and the new baby will remember and get a lot of use out of. I'm pleased with how it turned out.
You can click
here
to get more detailed instructions on how to put one of these cute wreaths together and to see all the other sweet wreaths this blogger has made. The ideas and possibilities for these wreaths are endless. I'm imagining one made for a new bride-to-be using kitchen gadgets or a bathroom themed one as a housewarming gift.
I'm linking up to these great parties this week. Please be sure to pop over and check out all the great ideas!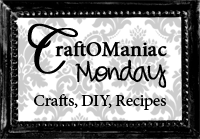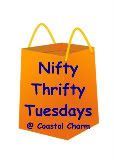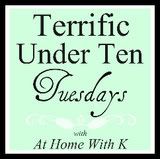 Until next time. . .