I don't know about y'all, but I am so ready for spring to get here! I am not a big fan of winter, snow, or cold weather in general. With that thought in mind, I was browsing through a catalog I received in the mail that features lots of spring time items. I'm not sure how I ended up getting this catalog, as I've never ordered anything from them due to their rather high prices. They have some really nice things, just not in my budget right now! This little piece really caught my eye:
It is a set of 2 pictures featuring yellowed sheet music backgrounds with little bird's nests in the center. So cute! But at $39.99 plus shipping and handling for the pair, it's a bit pricey for me. So I set out to create a much more affordable version and here's what I came up with:
Please forgive the poor quality of the pictures. I really need a new camera! And, these photos were taken at night, so the lighting is not the greatest. I tried one with the flash on, and it was horrible. So this is the best I can do right now.
Anyways, my version only cost me around $5.00 to make! I bought an 8 X 10 plain wooden certificate frame from the Dollar Tree. I had the spray paint and the ribbon on hand from a previous project so that was free. I copied some sheet music I had on hand on some yellowed card stock. I already had this on hand as well. I found a set of two little bird's nests at Hobby Lobby for $2.99 and I purchased a package of mixed colored plastic bird's eggs at the same place for less than $2.
It was an easy project. I spray painted the frame and sanded it lightly to give it a somewhat worn look. Then I glued the sheet music to the cardboard backing that came with the frame. I cut a length of my ribbon and hot glued it to the front and back of the top of my frame. Then I glued three of my little eggs in the nest and hot glued the nest to the center of my sheet music. I then tied a bow out of another piece of ribbon and hot glued it to the top of my frame. That's it! I'm pleased with how this turned out and may make a smaller one so that I will have a set like the ones in the catalog.
I'm linking up with these great parties this week. Click on the image to go check out all the great things people are working on!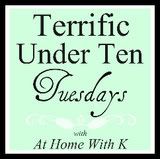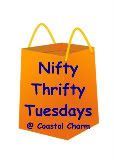 Until next time. . .