I was the lucky winner of Carmen's recent giveaway over at Waxed Out Creative Life. My goodies arrived today and even before I got the box all the way opened, I could smell the yummyness!!!
Just look at all those wonderful goodies! Carmen made me a cute little chocolate stuffed primitive bunny! It has a tag around it's neck that says "Hoppy Easter"! He looks good enough to eat! Love it! She also sent me a nice little book entitled "Hanging Out the Wash". This is filled with stories regarding ways to find precious moments in every day. Slow down and take a breath!! Exactly what I need to do! Also included with the book was a cute card stock bookmark with "Take Time to Enjoy the Simple Things in Life". But what made the package smell so yummy was some of Carmen's homemade soap in apple cider and molasses scent and the most yummy smelling tarts I've ever smelled in ginger peach scent. Oh my, they are heavenly!! Carmen also enclosed a nice greeting card with a lovely note written inside. Thank you so much for everything, Carmen! I love it all and it made my day when I opened my mailbox and saw it there!
With Valentine's Day fast approaching, I wanted to share a couple of things I threw together this weekend. The first thing is a decoration. I bought a couple of those craft glass blocks at Hobby Lobby back before Christmas with the intent on doing something spectacular with it. Well, it sat in my "craft" room (spare bedroom) collecting dust. I went to the Dollar Tree last weekend and picked up a sheet of those Valentine window clings for my office window at work. I had a couple left over and so I decided to stick one on my craft block just to see how it looked. I liked it!! I had purchased a light to go inside of my block, so I put that in and tied me a bow out of some ribbon I had left over from Christmas and this is what I ended up with:
I am also planning on doing this with some St. Paddy's Day window clings and a green bow on top. Quick and simple, just the way I like it! It looks really cute in my office window at work and I got a lot of compliments on it today.
The next thing I did is gonna be for my son for Valentine's Day. He's 17 years old and thinks he's too old and big for Valentines. But he still likes candy every now and then so I decided to make him a candy ice cream sundae. I bought an ice cream sundae dish from Wal Mart along with a bag of Snicker's bite sized candy bars. I filled the sundae dish up with red hots, cut a 4 inch styrofoam ball in half and hot glued it to the top of the sundae dish. I then pinned on my candy bar bites until I had my ball covered. I tucked a few pieces of white tulle around to fill in any empty spots the candy didn't cover to mimic whipped topping. I also put a piece of tulle on top and stuck a cherry sucker down thru the top to mimic a cherry. Then I cut a flexible drinking straw in half at an angle and stuck it into the top. This picture doesn't do it justice, it's so cute in person!!
I think it would be cute to do one with chocolate covered raisins and cover the top with Hershey bars to simulate a chocolate milkshake! The possibilities are endless with this. I think I'll probably make my hubby one too. He loves chocolate almost as much as I do!
I'm linking up to these wonderful parties. Click on this image to go check out all the wonderful crafts, recipes and how-to's people are sharing!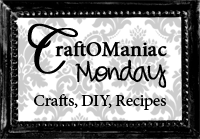 Well, that's it for me today. I've got to get busy finishing up some items for my giveaway that ends Wednesday. If you haven't entered, hurry up and do so!!!
Until next time. . .