I've been wanting to try my hand at painting some stacking boxes to go in my "new" kitchen (which I hope to get started transforming real soon!). So the last time I went to Hobby Lobby, I picked up two different sized plain boxes. I paid around $6 total for both boxes. I figured if I messed them up, I wouldn't be out too much money.
I decided to go bold and paint them red and black. I'm shooting for a French country sort of theme in my kitchen and my colors are going to be red and tan with touches of creamy white and black. I am also incorporating some roosters (of course!) and I love coffee so I will be using those two elements to help me decorate. I drew my rooster freehand and used stencils for the stars and the word COFFEE. Everything else was done freehand. I then distressed the boxes some for a worn look. I really like the way they turned out. Pretty decent for a first attempt, don't ya think??
I am thinking I will probably use these in a vignette on top of my fridge, but that is subject to change! I get so much inspiration from all you talented folks out there in blogland, so if anyone has any ideas on ways to display these boxes, let me know. I am working on a cute little display for an empty corner on my counter top right now. I found an awesome plate at Wal Mart of all places and I got it for $1.50 on clearance! I'm gonna pair it with a rooster and an apothecary jar filled with green apples. I'll show it to y'all when I get it just right.
I'm linking up to these fabulous parties. Please pop over and check them out!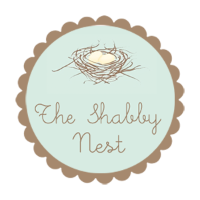 Well, that's it for me today. I'm heading out the door for work. Thank goodness tomorrow is Friday! I hope everyone has a fantastic day and don't forget to count your blessings!
Till next time. . .