Hey everyone! Sorry it's been a while since my last post. The hubs and I worked all last week and thru the weekend on our kitchen redo. We did manage to finish all the wall painting and we tried to get started on painting the cabinets, but the color we bought, which was Apple Peel in a semi-gloss finish, turned out to be more of a salmony pink color. Definitely not what I wanted!!! We used the same color on the lower half of the dining area, in a satin finish, and we love it! But I guess maybe because of the different finishes of the paint and the cabinets being a different texture than the walls, it just ain't cuttin' it. So we are going to use this paint as a primer/base coat and go with another paint color a couple of shades darker than what we used on the walls. I'm hoping that will do the trick.
I have managed to get a little bit of crafting done in between all this remodeling mess. I made some twine balls and I love them! I've seen this on several different blogs and decided to give it a try. I forgot to take some "before" pictures but basically all I did was blow up some cheap balloons to the sizes I wanted my balls then I mixed some regular old white school glue with some water, cut some twine in the lengths I wanted, dunked it into the glue mixture and wrapped the balloons with it. I let them dry overnight and then popped the balloon and pulled it out of the ball. Here's what I ended up with:
This was a fun and inexpensive project, albeit very messy!! I love the way they turned out. The little white figurine thingy you see in the picture came from the Dollar Tree. It was a dark brownish color but I slapped some vanilla craft paint on it, letting a little bit of the original color come thru.
I also made some rope balls. I found this package of three decorative balls on clearance at Wal Mart for $3.
I was going to use the twine you see in the picture to wrap them with, but once I got started, I didn't like the way it looked, so I opted to go with some heavier rope. I already had the rope left over from a Christmas ornament project I did this past year. All I did was take some hot glue and glue the rope all the way around the balls. Quick and easy! Here's the finished project:
I also made a book bundle (Pottery Barn knock off) that I've seen several people do here in blogland. I already had the books so all I did was tear off the covers and tie them together with some twine. I decided that I wanted to jazz them up a little bit so I added a key on a piece of ribbon and took a key stamp and a "love" stamp and stamped all over them and, voila, cheap and instant art!
I decided to set Mr. White Roo on top of them for a little added interest:
A while back, I was the lucky winner of some beautiful blue and white candlesticks from Marty over at
A Stroll Thru Life
. I decided to use them along with some of my new creations to brighten up my fireplace mantle a little bit. I'm very pleased with the way they look on my fireplace. Thank you so much Marty!!!
Sorry for the poor picture quality. I took these shots early in the morning so the lighting wasn't all that great. Here's a pic showing the entire fireplace mantle vignette:
Hubby made me the window frame out of some scrap wood he had laying around. I painted it black then went over it again with some white paint. The blue plates were a Ross find as was the cute little white pitcher. I added some Dollar Tree flowers to it for a springy feel. The cream plate hanging above the window frame is from Wal Mart.
I'm linking up with these great parties this week: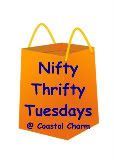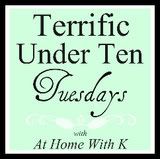 I'm working on a few more Easter related crafts. Hopefully, I'll actually finish them before Easter arrives. If this kitchen remodel doesn't kill me first!!
Until next time. . .